The State Laws of Maine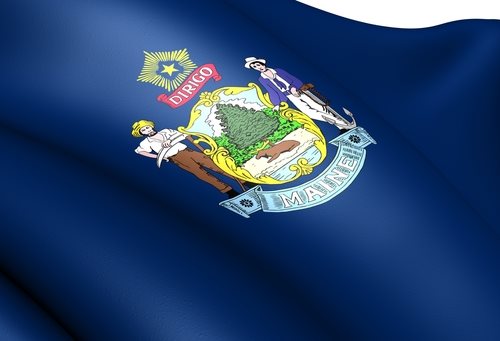 Maine Abortion Laws
• Statutory Definition of Illegal Abortion in Maine: Abortion is deemed illegal if it is ruled that the procedure was an intentional interruption of a pregnancy through the use of external agents.
• Maine's Definition of Legal Abortion: Abortion is deemed legal if the operation is performed before a medical professional rules the fetus to be viable; abortion is deemed legal after viability, only when the medical professional rules the procedure necessary to preserve the life or health of the carrying woman.
• Penalties for Unlawful Abortion: Class D Crime: the medical professional is ruled liable if he/she fails to perform required actions. Penalties for these actions include fines up to $1000. Medical professional will also be ruled liable if it can be determined that the individual did not take reasonable steps to preserve the life of the child: the medical professional in this situation may be subject to homicide, manslaughter and/or malpractice liability.
Maine Marijuana Laws
• Possession: Over 1 lb. creates presumption of trafficking: Class E crime
• Sale: Over 1.25 oz. creates presumption of furnishing: Class D crime
• Trafficking: Class D crime; Possession of over 1 lb. or over 100 plants: Class C crime; Over 20 lbs. or over 500 plants: Class B crime
Maine DWI and DUI Laws
• Maine imposes Zero tolerance laws when an individual below the legal age is suspected to be unlawfully operating a vehicle; within Maine, the Zero Tolerance Blood Alcohol Content Level (BAC) cannot exceed .02%
• The BAC limit for individuals of the legal age may not reach .08%
• After receiving a DUI or DWI conviction, the charged individual is subject to losing his/her driving privileges for a minimum of 90 days; additional penalties may be palced on the individual, including severe fines, jail time or mandatory participation in alcohol education courses
Maine Gun Laws
• Maine is "a shall" issue state for the right to conceal and carry.
• The issuing authority is the local police department or local government agency
• Permits to carry a concealed firearm is issued within 30 days to applications who have resided in the state for a minimum of five years. These permits must be renewed after 4 years time.
• Illegal arms in Maine: Machine guns and armor piercing ammunition
• The following may not own a firearm in the state of Maine: Those individuals convicted of a crime that is punishable by imprisonment for one year or more.
Maine Adoption Laws
In Maine, individuals deemed as law-abiding citizens who are of sound mind and moral characters are permitted to adopt children:
• An individual must maintain residence in the state for a period of no less than 6 months
• Children above the age(s) of 14 must express consent with regard to a potential adoption
• Within the state of Maine, the Department of Family Services mandates all adoptions
Maine Employment and Labor Laws
• The minimum wage is 7 dollars and 15 cents
Maine Death Penalty Laws
• Maine does not practice capital punishment
Maine Gambling Laws:
• Horse racing wagering is legal
• Dog racing wagering is prohibited
• Gaming is only permitted on Passamaquoddy tribal lands
Contact Maine lawyers for legal advice and assistance.
Comments
comments