The State Laws of Florida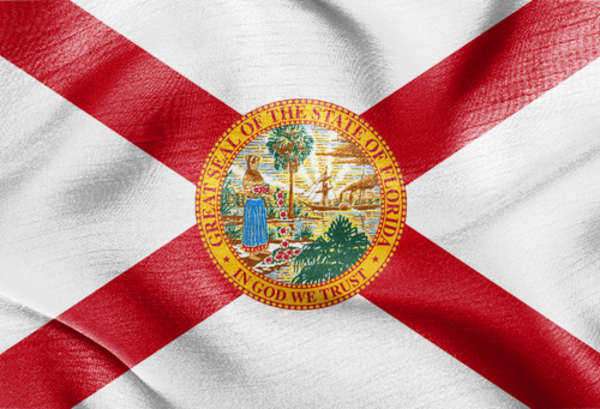 Florida Abortion Laws
• Statutory definition of illegal abortion in Florida: The termination of pregnancy during the last trimester.
• Statutory definition of legal abortion in Florida: Procedure is ruled permissible if it is necessary to save the life or preserve the health of the carrying mother. To be regarded as legal, mother must attain 2 physicians' approvals
Florida Marijuana Laws
• Possession: 3rd degree felony; Under 20 grams: 1st degree misdemeanor; In excess of 25 lbs. is regarded as trafficking (1st degree felony)
• Sale:3rd degree felony, unless less than 20 g. for no consideration, then 1st degree misdemeanor
Florida Gun Laws
• Permit to purchase is not required in Florida for handguns or long guns
• Carry permit must be issued for handguns, but not long guns
• Assault weapon law is not followed by Florida
• Waiting Period of 3 days
• Illegal arms: short-barreled rifle or shotgun, machine guns
• Who may not own: Minors under 21, convicted felons, individuals convicted or committed for abuse of a controlled substance within the last 3 years, anyone who habitually abuses alcohol, has been incapacitated, been committed to mental ward, and person subject to injunction against committing acts of domestic violence
Florida Adoption Laws
• Any person may be adopted in Florida
• Age that Child's Consent is required: 12 years and older unless court dispenses with consent in best interest of the child
• Who may adopt: An unmarried adult who is no homosexual. Married person must be joined by spouse unless such spouse is parent and consents, or failure to join in consent is excused
• Department of Health & Rehabilitative Services presides over adoption in Florida
Florida Divorce Laws
Within the state of Florida, a divorce is defined as the termination of a marriage, which can occur upon a decision set forth by one or both partners involved in the marriage:
• A divorce must be filed subsequent to 60 days residence within the state of Florida; in the event that an individual –or individuals – were married in Florida and lived there on a continuous basis, a time constraint for filing does not exist
• 'No Fault' divorce does exist on the grounds of irreconcilable differences
Florida Death Penalty Laws
• Capital Punishment is allowed in Florida
• Individuals are exempt from execution if they are insane or pregnant
• Homicide and capital drug trafficking are the only crimes that would warrant the death penalty in Florida
• Lethal injection is the method of execution unless the person sentenced to death opts for electrocution
Florida Gambling Laws
• Off-track and inter-track betting is allowed. Pari-mutual wagering meets of horse racing, quarter horse racing and harness racing is permitted
• Pari-mutuel wagering on greyhound racing allowed with permit. Off-track and inter-track wagering is allowed
• Pari-mutuel-style, not casino-style card rooms are permitted. Tribal gaming pursuant to Indian Gaming Regulatory Act is legal in Florida. All other gambling devices are prohibited.
Comments
comments